Oneplan Muddy Puppy Walkhaven Dog Park 2020
0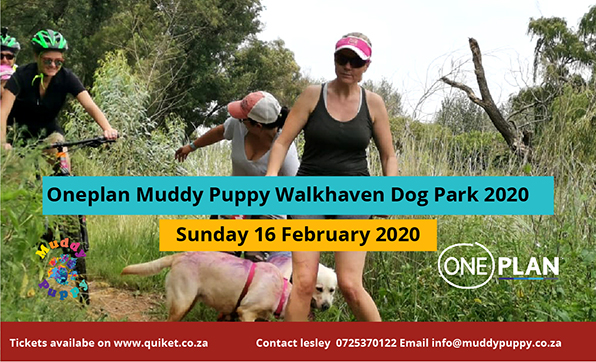 Sunday 16th of February 2020
Muddy Puppy will be hosting an event on Sunday the 16th February at Walkhaven Dog Park. All dog owners and their furry companions can spend some quality time, walking, running and completing obstacles for both dogs and owners, taking on the mud and water and just enjoying the 2.4 km course together.
Come out and challenge other dogs and their owners.
Please join us for this amazing event and you will be rewarded with an awesome medal.
A portion of the "Muddy Puppy" proceeds will be donated to a chosen Dog charity for each event.
The pricing is per handler dogs are free.
Early Bird Entry - R130 per person ( available until 15th December 2019)
Entry Fee - R160 per person
R90 Children under 12
Children under 6 Free (must be with a paying adult)
Unfortunately no refunds will be given but you can use your ticket as a credit to one of our upcoming events.