Oneplan Muddy Puppy The Wedge - Sun 31st Mar 2019 07:00 - 12:00
MuddyPuppy
0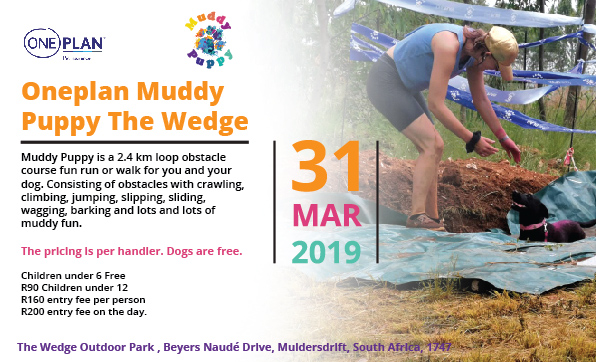 Muddy Puppy is a 2.4 km loop obstacle course fun run or walk for you and your dog. Consisting of obstacles with crawling, climbing, jumping, slipping, sliding, wagging, barking and lots and lots of muddy fun.
The pricing is per handler dogs are free.
Children under 6 Free
R90 Children under 12
R160 entry fee per person
R200 entry fee on the day.
Tickets are available on the link below
Click Here To Get Your Tickets


Medals and treats to all finishers.
A portion of the Muddy Puppy proceeds will be donated to a dog charity.
Unfortunately no refunds will be given but you can use your ticket as a credit to one of our upcoming events.