Oneplan Muddy Puppy - Cape Town Ostrich Ranch - Sun 11th Nov 2018 07:00 - 12:00 (SAST)
MuddyPuppy
0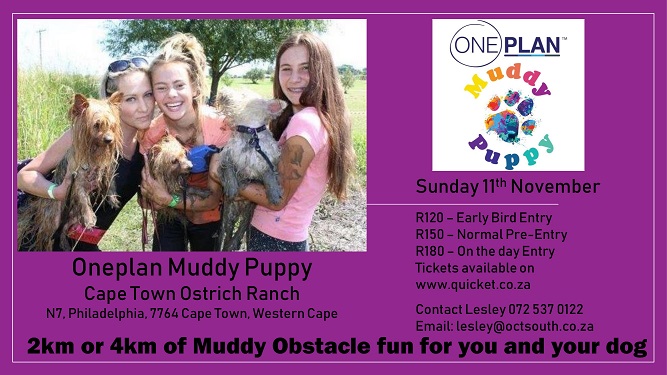 Van Schoorsdrif Road, Philadelphia, Cape Town, South Africa, 7439
Oneplan Muddy Puppy is finally coming to Cape Town, set in the beautiful tranquil Cape Town Ostrich Ranch.
Muddy Puppy is a 2km or 4km obstacle course fun run or walk for you and your dog. Consisting of obstacles with crawling, climbing, jumping, slipping, sliding, wagging, barking and lots and lots of mud. PLEASE NOTE THAT THERE ARE LIMITED EARLY BIRD TICKETS AVAILABLE!!
R120 Early Bird Entries
R150 entry fee per event for handler (8yrs & older) and dogs (1yr & older).
R180 on the day entries.
All dogs must please be on leashes at all times.
Medals and treats to all finishers.
A portion of the "Muddy Puppy" proceeds will be donated to a local dog charity.